Here is a sampling of some of the things that I have done over the past few years. Quite a bit of it has been sold, some of it is still for sale. If you are interested in buying art, get a hold of me and make an offer. Overseas shipping is not a problem.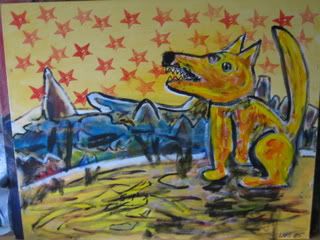 Kun esi-isät saapui Meerikaan,
kojootti oli odottamassa/When my
ancestors got to America, coyote
was waiting.
2005
acrylic on canvasboard
Private Collection
Tarja Halonen
2005
acrylic and paper on canvas
Private Collection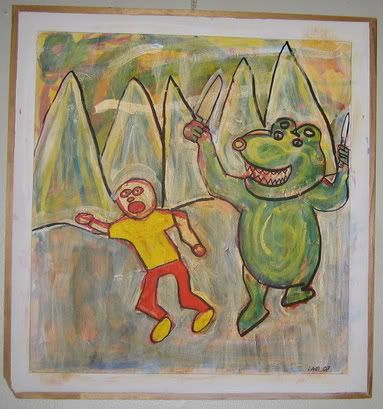 Natural Selection
2007
Acrylic/Wooden Cabinet Panel
Private Collection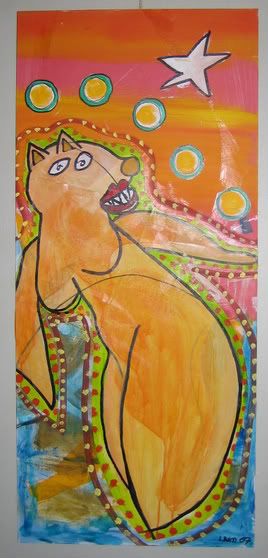 Foxy Lady
2007
Acrylic/Marker/Paper/Hardboard
private collection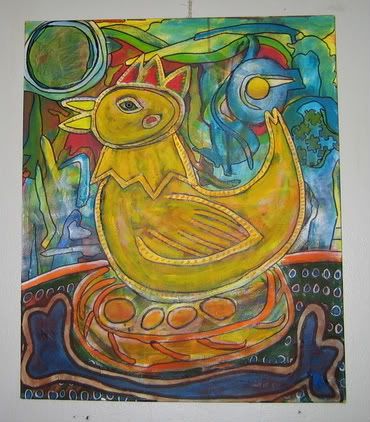 Setting Hen
2007
Acrylic/Canvas
Private Collection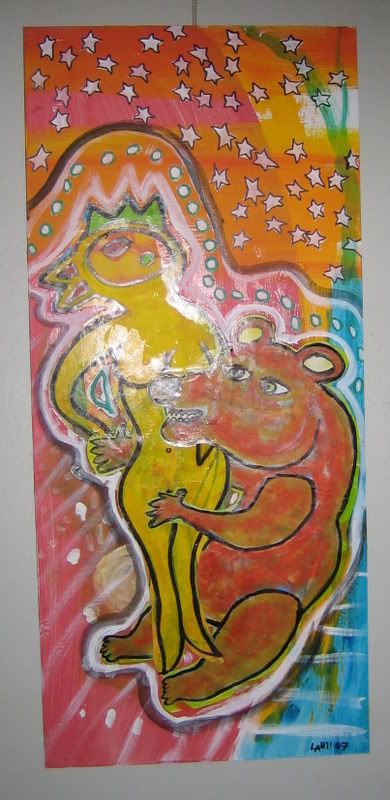 Infatuation/Indifference
Acrylic/Paper/Hardboard
2007
Private Collection

Hen and Weasels
Acrylic/Paper/Hardboard
2007
Private Collection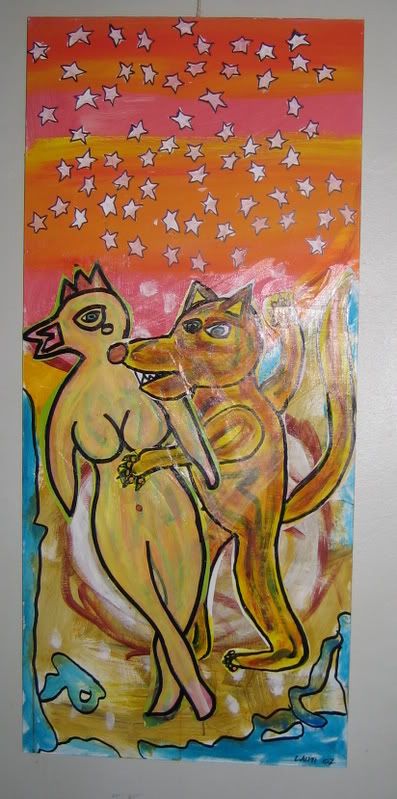 Fox in the Henhouse
Acrylic/Paper/Hardboard
2007
Private Collection
Palaveri/Conversation
acrylic/canvas-set of 2
2007
Private Collection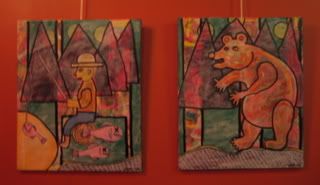 A Better Way to Fish
acrylic/newspaper/canvas-set of 2
2007
Private Collection
Grandpa Turtle
acrylic/paper/hardboard
2007
Private Collection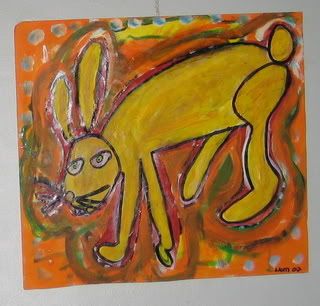 Uncle Rabbit
acrylic/paper/hardboard
2007
Private Collection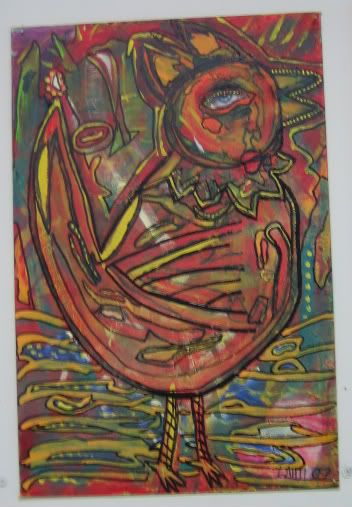 red rooster
2007
acrylic on canvasboard
For sale
crayon on coconuts
installation on mexican beach
2007
circus lion
acrylic on canvas
2008
Sold
big girls dancing
acrylic and paper on canvas
2008
For Sale (as a set or indivually)
caution! children at play
green/red/blue
acrylic and newsprint on canvas
2008
blue
sold
,red
sold
, green
sold
untitled
acrylic on plywood
2008
central panel
sold
, side panels still for sale
green lions
acrylic on plywood
2008
For Sale (lion on the right-hand side has been sold already)
duunari/working man
acrylic and photograph on canvas
2010
private collection
death eye dog and his mongrel pup
acrylic and photograph on canvas
2010
private collection
motivation
acrylic and photograph on canvas
2010
private collection
boss man and union rep
acrylic and photograph on canvas
2010
for sale
death eye dog brings working man a gift
acrylic and photograph on canvas
2010
private collection
death eye dog and his mongrel pup
acrylic and photograph on canvas
2010
private collection
boss man and union rep
acrylic and photograph on canvas
2010
private collection
Red Dog
Acrylic on old cupboard door
2011
for sale
Bear tries his luck
Acrylic on plywood
2011
for sale
Coyote notices everything
Acrylic on masonite
2011
for sale
Raven
Acrylic and paper on plywood
2011
for sale
Two weasels
Acrylic and paper on plywood
2011
for sale
Monkey with banjo
acrylic on plywood
2011
sale pending